OVERVIEW
What you need to know
Semi-Auto Chemistry Analyzer, BS3000M
Technical Specifications:
Reading Cuvette: Flow through cell and direct reading cuvette
Measuring Volume: 200ul-800ul
Incubator: 20 INCUBATING POSITIONS
Thermostatic Control: Temperature: 25℃, 30℃, 37℃Precision: ±0.1℃
Method: End point, Fixed time, Multi-standard, Differential, Dichromatic and Immuno-turbid metric, etc.
Quality Control: Excellent QC. Function, QC, chart may be displayed and printed
Display: Back-illuminated LCD
Storage: Over 200 programs, 1000 test results
Printer: Built-in thermal printer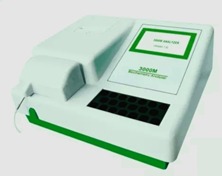 We have a set of professional dynamic experience and well equipped staff and expertise in the recent time's advancement in medical sciences and technology, saddled with the responsibility of undergoing operational task for all our customers' utmost satisfactions.